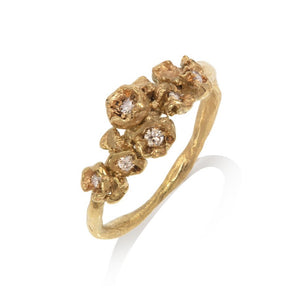 9ct Gold Posy Diamond Ring
Regular price $1,931.00 Sale
This handmade 9ct gold ring is adorned with a posy of tiny summer wildflowers that gently twinkle with champagne diamonds. Crafted with intricate attention to detail in 100% recycled gold and gently polished to catch the light making it the perfect choice for someone looking for a unique and sustainable engagement ring.
This exquisite and unique ring is part of a collection of jewellery inspired by a beautiful poetry book with daisies embossed on the front cover and handcut pages found on my Grandma's book shelf, this collection depicts seasonal tales from British wildlife and countryside. From the dazzling bluebells that cover ancient woodland in the spring to the bright meadows bursting with buttercups in the summer, wild flowers are what make our world so beautiful, while also providing precious nectar for our insects.
Delivery
Elegantly gift packaged in a stunning signature box, all orders are sent out in eco-friendly recyclable, reusable or biodegradable packaging. Please allow 4-6 weeks to receive your jewellery as this ring is individually handmade to order. 
"I love to see the summer beaming forth
And white wool sack clouds sailing to the north
I love to see the wild flowers come again
And mare blobs stain with gold the meadow drain"

- John Clare, I love to see the summer beaming forth