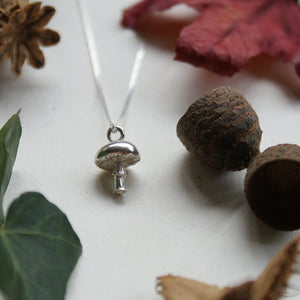 Toadstool Necklace
Regular price £50.00 Sale
This enchantingnecklace features a tiny sterling silver toadstool. Handmade with exquisite attention detail and gently polished to catch the light, each dainty toadstool measures just 1cm x 1cm and is suspended from an 18ch" diamond cut trace chain. Made using 100% recycled silver, this piece would be the perfect choice for anyone who loves nature, the English countryside and who is also hoping to make more sustainable choices. Also available in with an 18ct gold plate finish. 
This beautiful necklace is part of a collection of jewellery inspired by a beautiful poetry book with daisies embossed on the front cover and handcut pages found on my Grandma's book shelf- A Bird Lovers Anthology. Discovering a toadstool in the woods is like discovering fairies, here today and gone tomorrow, they fuel stories of wonder and magic.
Delivery
Elegantly gift packaged in a stunning signature box with specially designed tissue paper that reflects the story of this beautiful collection. You can also purchase a gift card for an additional £2.80 designed by Hannah Longmuir Artist with each order. all orders are sent out in eco-friendly recyclable or biodegradable packaging. Please allow 1 week to receive your jewellery as this necklace is individually handmade to order.